WARNING! This may contain spoilers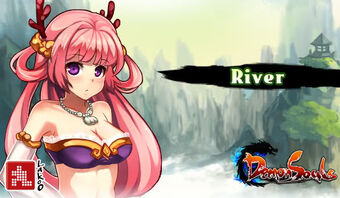 Found as an infant by a fishing village elder floating down a river, which is where her name originated from. River grew up as one of their own, learning their traditions and even the dead lost language of the ancients. Her desire to seek out her past will unfold her destiny that will change the very fate of people and demons.
-Game Description
River is the childhood friend of Thunder. She was found at the river of Thunder's village, hence was given that name. Her true origin remains unknown until later within the game. She always worries for Thunder and his sense of adventure, but is rather a klutz when it comes to exploring outside of the village. 
Appearance
Edit
River has pink hair, held back by a yellow headband and red antlers with two small
loops on the opposide side of her bangs. She has purples eyes, matching the outfit she wears.
Around her neck, she wears a white shell. Her clothing consits of a revealing top, sleeves that start from her arms and a long material, similar to a dress.
Personality
Edit
River comes off as hostile at times towards Thunder because of her affection towards him. She is told she will someday marry him, to which Thunder can choose to do or think of her as only a friend. River is, initally, kind at heart and is at constant worry when it comes to Thunder's safety. She prefers to take risks for others and defend her rights, but it can lead to trouble for others. An example of this, is when River was caught at odds when it came to some demons and was poisoned in the progress.
Background
Edit
WARNING! This contains spoilers!
River is the daughter of the Earth Goddess. Her father must've been a half-demon/half-god because of River being a demigoddess. Her father had appeared to have passed away, as there is a statue of him in the City Of Gods. River was caught up in a rift between demons and people, thus leading to her ability to understand and communicate to demons. River was then later found by her 'Grandfather' at the river of Spear Village, hence her origin of her name.
She grew up, together with Thunder-still living with the curiosity of her origin. And being hinted out perhaps a future marriage with Thunder. The rest continuing from the main story.